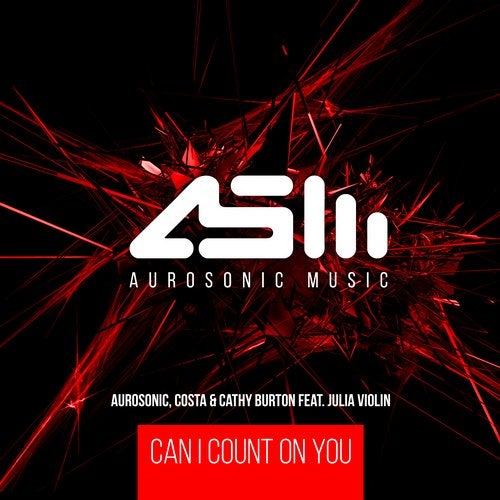 Aurosonic, Costa & Cathy Burton Feat. Julia Violin – Can I Count On You

RATING: (18.2/20)
Energy: 8.8/10
Emotions: 9.4/10

INTRODUCTION:
Konstantin Gerasimov 🇷🇺, aka Costa, is well-known for his alluring vocal Trance records. The Raz Nitzan Music (RNM) veteran also has releases on Abora, Infrasonic, Alter Ego, & Trance-All Stars etc. He has collaborated with many legendary RNM artists like Ana Criado, Maria Nayler, Sarah Lynn, Ellie Lawson & of course Cathy Louise Burton 🇬🇧. You might have seen her name on many classics from Armin van Buuren, Beat Service (now known as Madison Mars), Omnia, LTN & many more. That's certainly not a product of luck, and thanks to her consistency, her vocals are still outstanding just like back then. This team-up also includes Aurosonic 🇷🇺 whom we've reviewed before + Julia Bunina 🇷🇺 aka Julia Violin. Can We Count On Them for this one? Let's hear it!

PRODUCTION:

Kicking off with breezing melodies & deep beats that bring the
refreshing summer style
. As the enticing melodies create the emotional aura,
Cathy's magnetic vocals make their entry to light up the emotional atmosphere
, not to forget the catchy & tender lyrics.
Melodramatic violin strings
triple the emotions & increase the caliber
of the track through making the vocals shinier & the song more sensational. All the elements mix well to create a harmonic climax that truly demonstrates the quality of the record. It's more Progressive House than Trance but it's an
emotive vocal record
, as expected from them.
CONCLUSION:
OH YES! we can definitely count on them for a dazzling vocal tune.
Cathy's charismatic vocals, touching lyrics, the duo & Costa's stunning production & Julia's brilliant violin string melodies collectively yielded this amazing result. The official MV is also amazing as it expresses the beauty of waves at the shore. This 9+ minute trancer is one of the biggest collaborations from RNM this year.
Follow:
Our Trancelations
Aurosonic
Costa
Cathy Burton
Julia Violin
Raz Nitzan Music