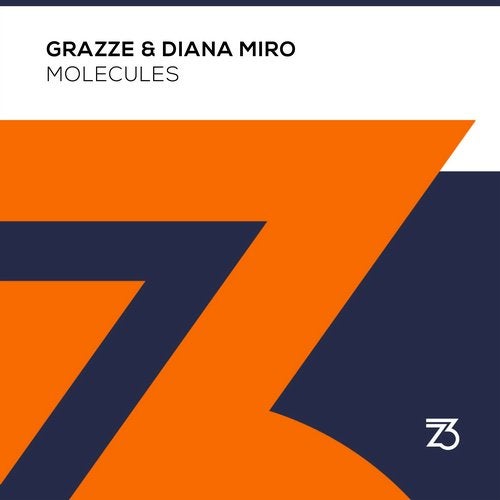 GRAZZE & Diana Miro -Molecules

RATING: (17.7/20)
Energy: 8.7/10
Emotions: 9/10

INTRODUCTION:
In our constant journey of looking for fresh talents, we arrive today at another station, that of Javier Garcia Perez aka GRAZZE 🇪🇸. Since the mid-2010s, the deep & progressive House DJ/Producer has amassed releases on various imprints like ZeroThree, Armada Electronic Elements, Anjunadeep etc. including remixes for big acts such as Tube & Berger, Stan Kolev, & D-Formation. Not to mention his podcast "Sounds Of GRAZZE" that also contributed to his recognition. To compliment his latest production, he teamed up with underground vocalist/songwriter Iryna Kustovska aka Diana Miro 🇺🇦 🇳🇱. Because she has been in the scene since the early-2010s mainly as a ghost-writer, it was only recently that she rose to the surface thanks to her collaboration "The Worship" with AVIRA, which started her new venture close to her roots. Her other collaborators include 8Kays, Eelke Kleijn, Estiva, & Tom Staar, and she was remixed by legends Jerome Isma-Ae & Forerunners. Let's check how these molecules combined to form this 3rd entry from GRAZZE on Z3.

PRODUCTION:

Starting with lots of liquid FX in an intense intro. The progression is
smooth, with some mystical vibes
, as is Diana's deep voice that also gives the melodies an
additional soul
. GRAZZE's hypnotic sound design & dynamic drum scheme further enhance the vibe, and they are topped by lovely
square riffs & crazy arps
. The lyrics reflect on expressing feelings to one another & how hard it can be as there are many
interconnections
which can react to it. I love the instrumental section that follows the vocal one, and also the ideal transitions in-between. Overall, an engaging production & arrangement with
subtle cinematic influences. CONCLUSION:

To me, this is a proper definition of underground vocal House. Its deep nature fits intros & warm-ups of Trance sets as well. ZeroThree hasn't recently had many tracks with vocals, but when it does, it's guaranteed to be a special one. Indeed, Diana Miro's vocals have again graced the underground sound, while GRAZZE has nailed it, as usual.
Follow:
Our Trancelations
GRAZZE
Diana Miro
ZeroThree