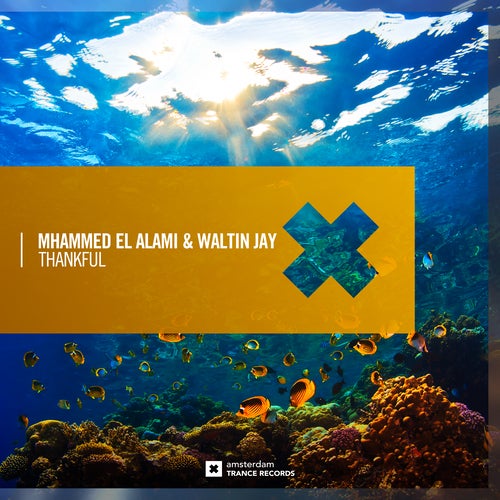 Mhammed El Alami & Waltin Jay – Thankful

RATING: (17.9/20)
Energy: 8.8/10
Emotions: 9.1/10

INTRODUCTION:
Mhammed El Alami 🇲🇦 was always one of the artists on our bucket list to review since we always love his work. Previously releasing as A.L.A.M.I, he built a great reputation in the scene thanks to his talent. It materialized in influential records on FSOE, Amsterdam Trance Records, Always Alive, Armada, Flashover, Vandit & many more; with support from legends like Armin van Buuren, Above & Beyond, & Ferry Corsten – to name a few. He's also part of SMR LVE (pronounced as "Summer Love"), a duo project with Chris Stebbins focusing on Progressive House/Trance. In 2017, he launched Ennovate Recordings (sub of Abora Recordings) with CJ Arthur & Tonerush but left afterward. Currently, though, he's a Relationship Manager and A&R @ Interflow Records. For this latest outing, he's back to one of his home labels, Amsterdam Trance Records, together with vocalist Waltin Jay 🇮🇪 (one of the rare male vocalists on the label). The latter has become a familiar face to fans of the label following his memorable collaborations with Stargazers, 4 Strings, Costa & Leroy Moreno.

PRODUCTION:

The letter of thanks starts with steady solid beats building up the intro with flashing kicks & pads. The catchy melodies come in to
triple the gusto of the track
, they are later nourished by J
ay's magnetic vocals that drive to the main theme of the track
. Not to mention the cheerful & jolly lyrics that make us want to dance to this record. As the breakdown gets more intense with glaring uplifting synths & beats, the artistic climax arrives with engaging melodies & remarkable lively beats –
Mhammed's signature.
The ending is polished with energetic beats that leave you on a high note. 
CONCLUSION:

We're so "Thankful" for this energizing tune that comes in perfect timing! Mhammed's enchanting production + Jay's encouraging vocals & lyrics are also a perfect fit. 
Follow:
Our Trancelations
Mhammed El Alami
Waltin Jay
Amsterdam Trance