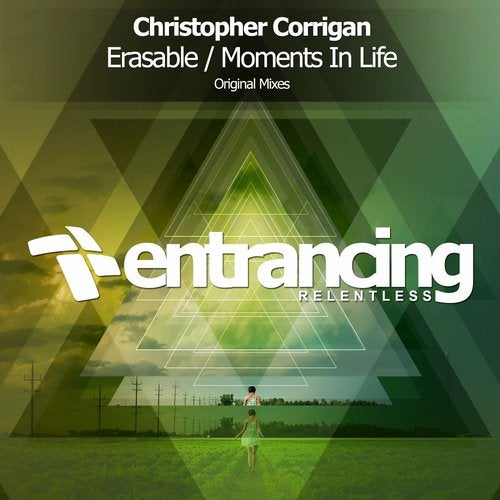 Christopher Corrigan – Erasable / Moments In Life EP [MULTI TRANCELATION]

RATING: (33.9/40)

INTRODUCTION:
Allura, Aenon, PLA4, Velvet Skies, and – more obviously – Chris Corrigan are all aliases of Christopher Corrigan 🇮🇪, besides, The veteran producer was also part of duo Tatoe & Tease. He has outstanding records on established Trance labels like Garuda, Who Is Afraid Of 138?!, Suanda, Redux, Nocturnal Knights & etc. with support from the biggest names such as Armin van Buuren, Above & Beyond, Andrew Rayel, Ferry Corsten, Aly & Fila & many more legends & talents. After his debut on Aural Sonic:138, he is back to make another debut on Relentless, a sub of 🇩🇪 Trance label Entrancing Music, with an EP of 2 tracks: "Erasable" & "Moments In Life". The titles sound super emotional, shall we dive into them?

PRODUCTION:
Erasable
Energy:
8.6/10
Emotions:
8.4/10
An enthusiastic intro with dashing beats & kicks before the catchy piano melodies make their entrance, making the atmosphere
sparkly & alluring
. Then, festive synths uplift the melodies for the breakdown before the introduction of heavy, but joyful beats in the climax.
With such energy, this track isn't "erasable" in the least.
Moments In Life
Energy:
8.4/10
Emotions:
8.5/10
He began his "Moments In Life" with
powerful & bold beats & kicks including dynamic retro pads.
Tender piano melodies nail the memorable part of the track, but it doesn't last long as the dazzling synths take over, with sharp kicks achieving the transmission to the "climax" state. The classy beats based on the main melody combine well with retro techy beats to make an emotional climax.
Once again, a clean & energetic mix.CONCLUSION:

I think a combination of elements from the two tracks would form a great single piece, the energy from "Erasable" & the emotion from "Moments In life". All in all, I expected better but these are generally satisfying. Looking forward to what the talented Christopher has in store for next year.
Follow:
Our Trancelations
Christopher Corrigan
Entrancing Music Relentless
Entrancing Music