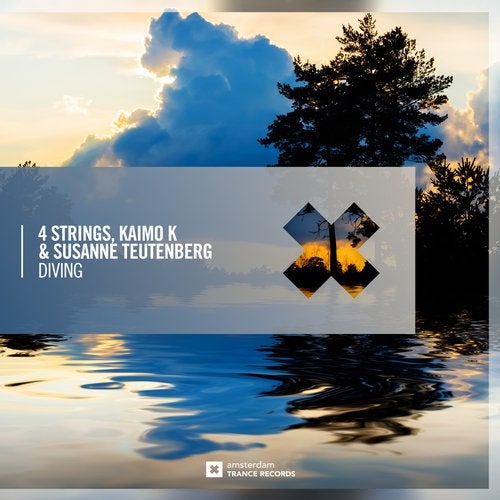 4 Strings, Kaimo K & Susanne Teutenberg – Diving

RATING: (18.1/20)
Energy: 9.1/10
Emotions: 9/10

INTRODUCTION:
Kaimo Kerge 🇪🇪, one of the veterans of Amsterdam Trance Records, is popular for the passionate & remarkable structure of his works. He also appeared on Emphase Recordings, Silent Shore (Abora), In Trance We Trust & most Raz Nitzan Music subs. His multiple vocal masterpieces include works alongside various names like Ana Criado, Neev Kennedy, Audrey Gallagher, Cathy Burton, Sue McLaren, etc. Not to mention a few instrumental hits as well. Thanks to this, he amassed a big fandom and huge support from A-list Trance DJs as well. This year, he's on a roll as his rework of legendary 4 Strings' classic Take Me Away topped the Trance Beatport chart. It's considered as one of his top works, one that got wide admiration in a short time. Now comes another take on another 4 Strings' 2002 classic, "Diving", that is also a team-up with the masterminds behind the original: Carlo Resoort & Jan de Vos aka 4 Strings 🇳🇱 , and Susanne Teutenberg 🇩🇪. It was first released on Liquid Recordings (Spinnin') & got remixes from Minimalistix, Cosmic Gate, Hiver & Hammer, and others including the duo themselves back in 2018. Susanne's voice graced many 4 Strings classics & she sang Kaimo's Take Me Away as well.

PRODUCTION:
2020's "Diving"
starts in vivid waters as Susanne's charismatic voice performing the original lyrics floats atop lusty & heavy bass + lively beats. The passion gets more intense as beguiling piano melodies put the famous catchy chorus verse on a pedestal. The fast & powerful synths in the breakdown feature Kaimo's well-known signature,
rapid & compelling beats followed by the main melody & acapella build the hearty climax
. Vocals, perky beats & drums polish the whole track & the result is magnificent!
CONCLUSION:

Massive rework again by Kaimo. He made it difficult to choose between "Take Me Away" or "Diving". What do you guys prefer? Let us know in the comments & also check his remix for Karanda & Sarah Rusells' "Still Got Time", coming your way very soon.
Follow:
Our Trancelations
Kaimo K
4 Strings
Susanne Teutenberg
Amsterdam Trance